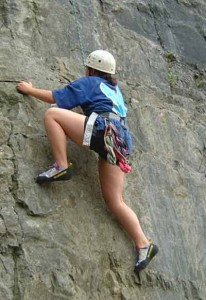 I didn't know a year ago what my values were. I had an idea but didn't connect the dots. Values are who I am in my life right now.  They have always been present and by identifying them, it has helped understand 'me' and my needs and wants better. By honouring them, I am living a fulfilled life and a life with meaning, being complete. When I have a decision to make, I look at my values, step into them and this truly aids my choice and making the right choice for me and for my family. They are like my comfort blanket but in that, there's also fierce courage and strength.
And it's great when someone in the know, in this case, another coach, by spending time in my company can come up with new values they see in me. The latest value I have found is 'expression'. For me it's a physical expression of pushing my body to the limits eg rock climbing or bikram yoga. The other form of expression is dancing. And I don't just mean the buzz you get from going out dancing with your mates, a vino in your hand, but truly letting yourself go, letting your body go with the music, feel the music, come alive, feel energised. When I do, I am so in tune with me, I feel I can take on the world, climb the highest mountain, everything is possible and it's all at my finger tips. It's empowering, like a drug and it's legal!
Are you honouring your values? Do you know what your values are?
Here is a simple exercise you can do to get you thinking about your values…
Identify a special, peak moment in your life. A moment that was very sweet, rewarding, when you felt great, on top of the world. Once you have that moment captured, ask yourself: what was happening? who was there? what surroundings were you in? take a step back from the moment and describe it to yourself. Then ask yourself what values were you honouring in that moment? Who were you being? What made it special?
Bit by bit, you will start putting together a list of your values and what is important to you, who you are and then start noticing in your every day life when and if you are living these values?
I would love to hear from those lovely people who do this exercise what awareness has come up for you, have there been any surprises?
If you can feel the benefit you would add to your life by doing further work on discovering your values and where this could take you, send me an email at sonia@creatingserenity.com.